RoboKiller uses your phone carrier's Call Forwarding feature to screen and block unknown/unwanted calls. Depending on what type of call forwarding your carrier supports, it can have an effect on your voicemail.
Most carriers support one or both of the following Call Forwarding features:
Unconditional Call Forwarding: Forwards ALL calls to RoboKiller for screening
Conditional Call Forwarding: Forwards BUSY, UNREACHABLE, and UNANSWERED calls to RoboKiller for screening.
The Conditional Call Forwarding feature is required for RoboKiller to forward voicemail to your carrier's voicemail box. The only carriers which reliably support Conditional Call Forwarding at the moment are AT&T, and T-Mobile. This means all other carriers will receive voicemail through RoboKiller.
Certain carriers, such as Sprint may support Conditional Call Forwarding, but their voicemail systems are not fully compatible with RoboKiller. In these situations, RoboKiller will manage your voicemails in order to reliably allow callers to leave you a voicemail. Your voicemail will work basically the same as it has before, but you will find it in the RoboKiller app.
Accessing voicemail in the RoboKiller app is super simple! On the app's Recents screen, you will see RoboKiller's Call Log which includes Blocked, Screened, and Missed calls. These calls can be filtered using the tabs at the top of the screen.
If a caller was able to leave a voicemail, the call will most likely be listed under the Voicemails tab in the app.
To listen to the voicemail, simply tap on the call and a Call Details screen will pop up where you can hear the message and even see the voicemail transcription!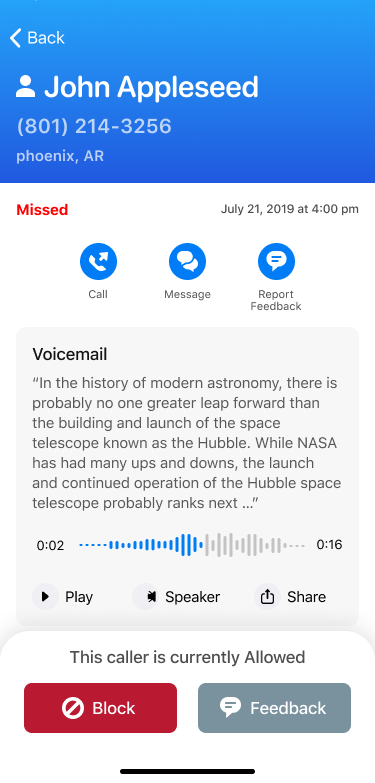 Still have questions? Chat with us!
Support is available through the app or on our website at www.robokiller.com/support. We'd be glad to help!